Speed Walking
Taekwondo 태권도
Taekwondo Preschool
When you reach senior belt you are expected to guide the junior belts when they are beginning Taekwondo such as showing by example. To advance from one rank to the next, students typically complete promotion tests in which they demonstrate their proficiency in the various aspects of the art before a panel of judges or their teacher. View Taekwondo belt levels »
About Speed Walking
The risks and benefits of combining stretching with warming up are disputed, although it is generally believed that warming up prepares the athlete both mentally and physically.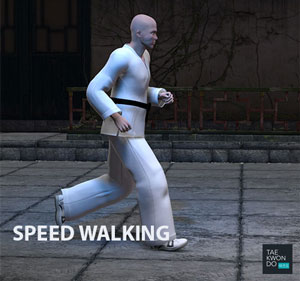 Power walking or speed walking is the act of walking with a speed at the upper end of the natural range for walking gait, typically 7 to 9 km/h (4.5 to 5.5 mph). To qualify as power walking as opposed to jogging or running, at least one foot must be in contact with the ground at all times.
Power walking has been recommended as an alternative to jogging for a low-to-moderate exercise regime, for instance 60–80% of maximum heart rate (HRmax). At the upper range walking and jogging are almost equally efficient, and the walking gait gives significantly less impact to the joints. When used in this way, an exaggerated arm swing is often used.
Power walking/speed walking is often confused with racewalking, which has rules to define what counts as walking fast and is also a popular Olympic level event.
Related Articles
A warm-up generally consists of a gradual increase in intensity in physical activity (a "pulse raiser"), joint mobility exercise, and stretching, followed by the activity. Warming up brings the body to a condition at which it safely responds to nerve signals for quick and efficient action.
Please follow the guidance of a certified Master Instructor or trainer when doing sports related activities. The article provided on this page is information that is widely available on Wikipedia article "Power Walking". Risk of injury can be reduced by completing an effective warm up consisting of a heart raiser to get your pulse up, followed by sport specific dynamic stretches (stretches whilst moving).
RESOURCES
This article uses material from the Wikipedia article "Power Walking", which is released under the Creative Commons Attribution-Share-Alike License 3.0.