Jumping Jacks
Taekwondo 태권도
Taekwondo Preschool
When you reach senior belt you are expected to guide the junior belts when they are beginning Taekwondo such as showing by example. To advance from one rank to the next, students typically complete promotion tests in which they demonstrate their proficiency in the various aspects of the art before a panel of judges or their teacher. View Taekwondo belt levels »
About Jumping Jacks
The risks and benefits of combining stretching with warming up are disputed, although it is generally believed that warming up prepares the athlete both mentally and physically.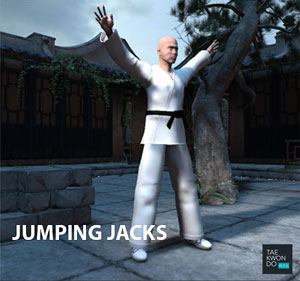 A jumping jack (Canada & US) or star jump (UK and other Commonwealth nations), also called side-straddle hop in the US military, is a physical jumping exercise performed by jumping to a position with the legs spread wide and the hands touching overhead, sometimes in a clap, and then returning to a position with the feet together and the arms at the sides. The jumping jack name comes from the traditional toy of the same name, while "star jump" refers to the person's appearance with legs and arms spread.
More intensive versions of this jump include bending down (over) and touching the floor in between each jump.
A similar jump exercise is called half-jacks, which were created to prevent rotator cuff injuries, which have been linked to the repetitive movements of the exercise. They are just like regular jumping jacks, but the arms go halfway above the head instead of all the way above the head. The arms also hit the sides to help tighten the jump.
Beginners class usually start with a repetition of 10 times jumping jacks. Later on the repetition increases as you gradually progress through training.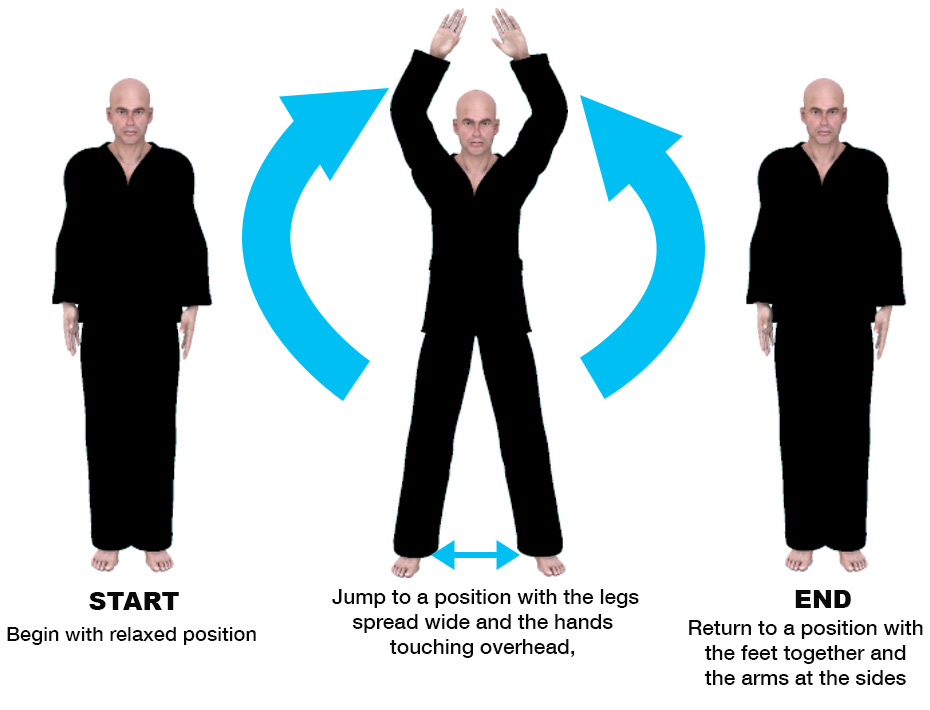 Related Articles
A warm-up generally consists of a gradual increase in intensity in physical activity (a "pulse raiser"), joint mobility exercise, and stretching, followed by the activity. Warming up brings the body to a condition at which it safely responds to nerve signals for quick and efficient action.
Please follow the guidance of a certified Master Instructor or trainer when doing sports related activities. The article provided on this page is information that is widely available on Wikipedia article "Jumping Jack". Risk of injury can be reduced by completing an effective warm up consisting of a heart raiser to get your pulse up, followed by sport specific dynamic stretches (stretches whilst moving).
RESOURCES
This article uses material from the Wikipedia article "Jumping Jack", which is released under the Creative Commons Attribution-Share-Alike License 3.0.