Lunge
Taekwondo 태권도
Taekwondo Preschool
When you reach senior belt you are expected to guide the junior belts when they are beginning Taekwondo such as showing by example. To advance from one rank to the next, students typically complete promotion tests in which they demonstrate their proficiency in the various aspects of the art before a panel of judges or their teacher. View Taekwondo belt levels »
About Lunge
The risks and benefits of combining stretching with warming up are disputed, although it is generally believed that warming up prepares the athlete both mentally and physically.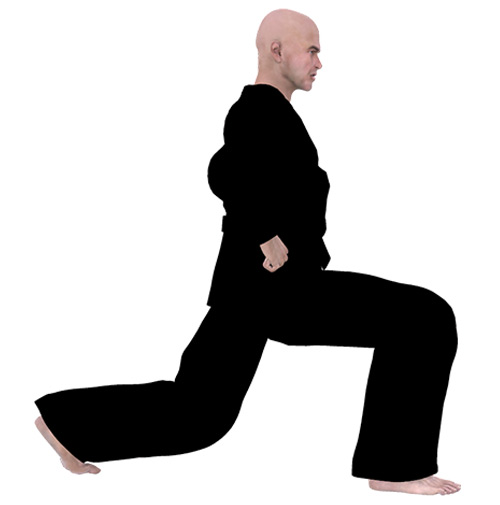 A lunge can refer to any position of the human body where one leg is positioned forward with knee bent and foot flat on the ground while the other leg is positioned behind. It is used by athletes in cross-training for sports, by weight-trainers as a fitness exercise, and by yogis as part of an asana regimen.
Strength Training
Lunges are a good exercise for strengthening, sculpting and building several muscles/muscle groups, including the quadriceps (or thighs), the gluteus maximus (or buttocks) as well as the hamstrings. A long lunge emphasizes the use of the gluteals whereas a short lunge emphasizes the quadriceps. The lunge is a basic movement that is fairly simple to do for beginner athletes.
A lunge can be performed using bodyweight alone. However, weight trainers may seek to increase the difficulty using either dumbbells or kettlebells held in each hand, or a barbell held atop the neck and shoulders. Grip strength may be an issue with the dumbbell lunge so practitioners may prefer the barbell lunge.
As a variation, plyometric lunges (also known as split squat jumps) can be performed by jumping explosively between lunge positions.
Related Articles
A warm-up generally consists of a gradual increase in intensity in physical activity (a "pulse raiser"), joint mobility exercise, and stretching, followed by the activity. Warming up brings the body to a condition at which it safely responds to nerve signals for quick and efficient action.
Please follow the guidance of a certified Master Instructor or trainer when doing sports related activities. The article provided on this page is information that is widely available on Wikipedia article "Lunge (exercise)". Risk of injury can be reduced by completing an effective warm up consisting of a heart raiser to get your pulse up, followed by sport specific dynamic stretches (stretches whilst moving).
RESOURCES
This article uses material from the Wikipedia article "Lunge (exercise)", which is released under the Creative Commons Attribution-Share-Alike License 3.0.