Taekwondo 태권도
Taekwondo Preschool
About Taekwondo Strikes
When you reach senior belt you are expected to guide the junior belts when they are beginning Taekwondo such as showing by example. To advance from one rank to the next, students typically complete promotion tests in which they demonstrate their proficiency in the various aspects of the art before a panel of judges or their teacher.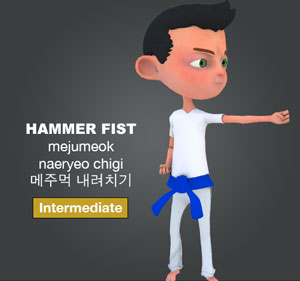 Hammer Fist Strike
( 메주먹 내려치기 mejumeok naeryeo chigi )
Difficulty Level:
Intermediate
A closed fist may be brought down in a hammering motion to strike with the underneath. Such a strike can obliterate an opponent's nose, making it near impossible for him to retaliate. This technique can also be used horizontally like a backfist strike using the bottom fist. This strike will not damage the bones of the hands as there is no compression of the knuckles or metacarpals, and there is no leverage to bend the wrist. The hammerfist strikes cricket ball sized areas on the body, hence is particularly effective for striking the Occiput, the temples, the nose, the mandible, the wrist (for blocking punches), the testicles, the sternum, and the ear (although a cupped hand is more effective). The hammerfist is sometimes used during "ground-and-pound" striking in mixed martial arts to avoid damaging the bones of the hand.
Strikers generally exhale as the strike nears the target. Breath control is also important to relax the body when not attacking; novice strikers often waste significant energy because they are tense at inappropriate times.
RESOURCES
This article uses material from the Wikipedia article "List of Taekwondo Techniques", which is released under the Creative Commons Attribution-Share-Alike License 3.0.