Kids Tutorials Blocks ( 막기 makgi )
Taekwondo 태권도
Taekwondo Preschool
Promotion from one geup to the next can proceed rapidly in some schools, since schools often allow geup promotions every two, three, or four months. Students of geup rank learn the most basic techniques first, and then move on to more advanced techniques as they approach first dan. Many of the older and more traditional schools often take longer to allow students to test for higher ranks than newer, more contemporary schools, as they may not have the required testing intervals. View Taekwondo belt levels »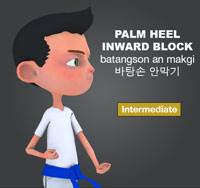 Palm Heel Inward Block
( 바탕손 안막기 batangson an makgi )
Difficulty Level:
Intermediate
Technique: Blocks ( 막기 makgi )
Open the hand and use the "bottom of the palm" to block the trunk area. The bottom of the palm is called batangson ( 바탕손 ). The wrist should be bent and the blocking technique starts from shoulder level. The finishing point is below the solar plexus area. Palm Heel Inward Blocks are executed against the attacker by quickly pushing their arm away to the right or left side and counterattacking when the procedure is done correctly. The important thing to remember is that the block is moving across the trunk area. The blocking technique is first introduced in Taegeuk #6 Yuk Jang Poomse.
Experienced practitioners learn through repetition and muscle memory when (not just how) to launch particular blocks, based on the circumstances they are facing. Fights and fighters may have ebbs and flows in momentum and action that become predictable. Disrupting this flow may give the striker an advantage.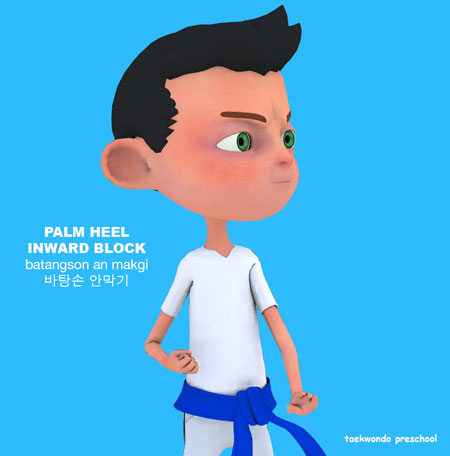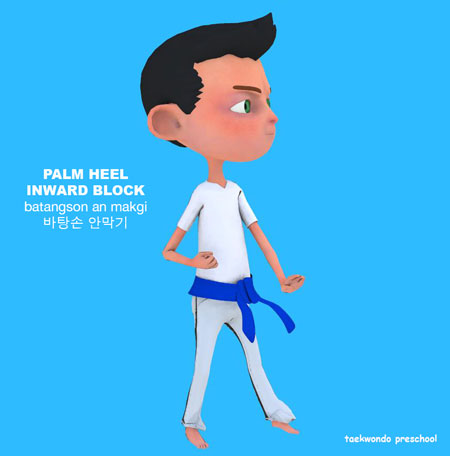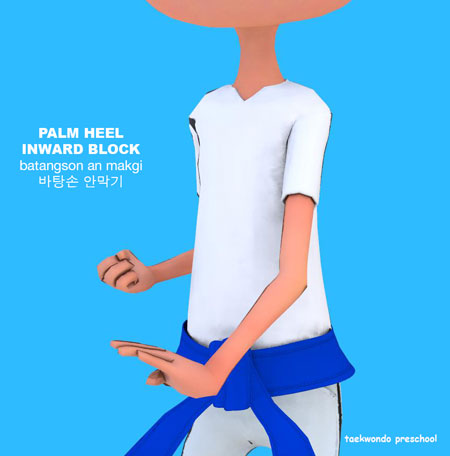 RESOURCES
This article uses material from the Wikipedia article "List of Taekwondo Techniques", which is released under the Creative Commons Attribution-Share-Alike License 3.0.