Taekwondo 태권도
Taekwondo Preschool
About Taekwondo Strikes
When you reach senior belt you are expected to guide the junior belts when they are beginning Taekwondo such as showing by example. To advance from one rank to the next, students typically complete promotion tests in which they demonstrate their proficiency in the various aspects of the art before a panel of judges or their teacher.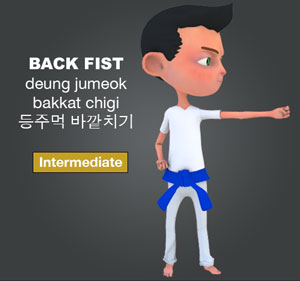 Outward Backfist Strike
( 등주먹 바깥치기 deung jumeok bakkat chigi )
Difficulty Level:
Intermediate
A Son Deung clenched hand is swung backwards into the face of an opponent. The fist of the hitting arm starts at the opposite shoulder. The back of the hand makes contact and the momentum garnered in the swing makes this a powerful strike. Spinning backfists are a knockout punch and banned in most Taekwondo competitions. Strikes should aim for a point 4–6 inches (10–15 cm) behind the target surface, to impart the most energy into the target. The striker in combat should attempt to strike through the target area, not just contact the surface.
RESOURCES
This article uses material from the Wikipedia article "List of Taekwondo Techniques", which is released under the Creative Commons Attribution-Share-Alike License 3.0.