Taekwondo 태권도
Taekwondo Preschool
About Taekwondo Strikes
When you reach senior belt you are expected to guide the junior belts when they are beginning Taekwondo such as showing by example. To advance from one rank to the next, students typically complete promotion tests in which they demonstrate their proficiency in the various aspects of the art before a panel of judges or their teacher.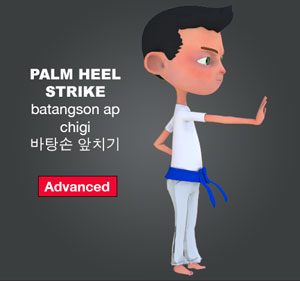 Palm Heel Forward Strike
( 바탕손 앞치기 batangson ap chigi )
Difficulty Level:
Advanced
A classic self-defence strike where the hand is pulled back to engage the base of the palm in an upwards thrusting strike. This is particularly dangerous if applied to the base of the nose or chin and can result in death. Obviously banned in competition Taekwondo.
Whether the hand is open or the fingertips are folded against the bottom knuckles, palm strikes hit with the bottom part of the palm, where the hand meets the wrist. The hand is held perpendicular to the wrist to avoid hitting the softer inner wrist tissue against the target. The bottom ridge of the palm is a surprisingly solid striking surface, and can do just as much damage as a closed fist when utilized properly (some studies have shown that a palm strike actually can produce more energy than a punch in most cases), with far less risk of injury to the striker's own hand. Also, it creates a few inches of additional distance between the striker and the target than a regular punch, thus picking up more momentum.
The palm strike is useful as it is thrown in a more relaxed manner than a clenched fist. This is because clenching the fist shortens the extensor muscles of the wrist which counter the action of flexor muscles of the wrist used in punching. Many martial arts teach to keep the fist clench relaxed until impact in order to maximize the speed of the punch.
RESOURCES
This article uses material from the Wikipedia article "List of Taekwondo Techniques", which is released under the Creative Commons Attribution-Share-Alike License 3.0.