Taekwondo 태권도
Taekwondo Preschool
About Taekwondo Strikes
When you reach senior belt you are expected to guide the junior belts when they are beginning Taekwondo such as showing by example. To advance from one rank to the next, students typically complete promotion tests in which they demonstrate their proficiency in the various aspects of the art before a panel of judges or their teacher.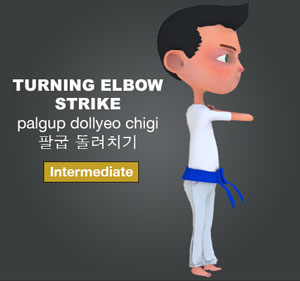 Turning Elbow Strike
( 팔굽 돌려치기 palgup dollyeo chigi )
Difficulty Level:
Intermediate
Forearm is folded inwards towards the body and the strike is delivered with the outside of the forearm or elbow. Remember to use the twisting of your upper body to generate more power for the Elbow Strike and keep a firm stance for balance. Muscles are activated in a precise sequence to maximize the force generated. Strikes should generally be thrown with some measure of shifting body weight supporting the blow, as opposed to just the striking arm or leg.
RESOURCES
This article uses material from the Wikipedia article "List of Taekwondo Techniques", which is released under the Creative Commons Attribution-Share-Alike License 3.0.