Taekwondo 태권도
Taekwondo Preschool
About Taekwondo Stance ( 서기 sogi )
When you reach senior belt you are expected to guide the junior belts when they are beginning Taekwondo such as showing by example. To advance from one rank to the next, students typically complete promotion tests in which they demonstrate their proficiency in the various aspects of the art before a panel of judges or their teacher.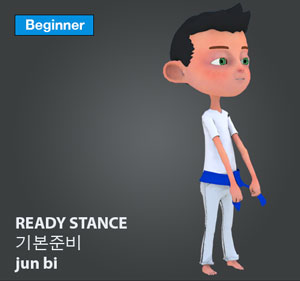 Ready Stance
( 기본준비 junbi )
Difficulty Level:
Beginner
Technique: Stance ( 서기 sogi )
Ready Stance refers to the most common ready position used in Tae Kwon Do training. Ready Stance is performed by standing with the feet one foot-length from origin apart, measured from the outside edge (Foot Sword) of the feet, with arms slightly bent and loosely held fists about one fist size apart just below the navel and the fists should be a fist size away from the body. Muscles are relaxed to promote movement speed from this position. This stance and its variants are most often used at the start of patterns. The student should be alert and aware, inhale and breathe out 1/3 of the air in your lungs. Remember junbi is to gather your spirit and power in a short time. This is a form of Ready Posture ( junbi-jase 준비자세 ).
RESOURCES
This article uses material from the Wikipedia article "Taekwondo Stances", which is released under the Creative Commons Attribution-Share-Alike License 3.0.