Taekwondo 태권도
Taekwondo Preschool
About Taekwondo Stance ( 서기 sogi )
When you reach senior belt you are expected to guide the junior belts when they are beginning Taekwondo such as showing by example. To advance from one rank to the next, students typically complete promotion tests in which they demonstrate their proficiency in the various aspects of the art before a panel of judges or their teacher.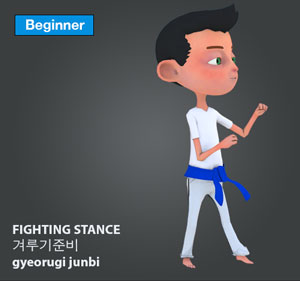 Fighting Stance
( 겨루기준비 gyeorugi junbi )
Difficulty Level:
Beginner
Technique: Stance ( 서기 sogi )
This stance varies with the martial art and practitioner, but is the basic all-purpose stance used in sparring and combat. Common features across the arts include turning the body to the side to present a smaller target, slightly bent knees for balance and agility, feet about two shoulder widths apart, and hands up, protecting the head. In an art relying heavily on kicks, the body's mass is usually shifted slightly to the back leg, making the front leg easier to lift and increasing the speed of kicks. Regardless of the exact stance, this is the most familiar stance for a martial artist. All other stances, blocks, and attacks flow from this stance.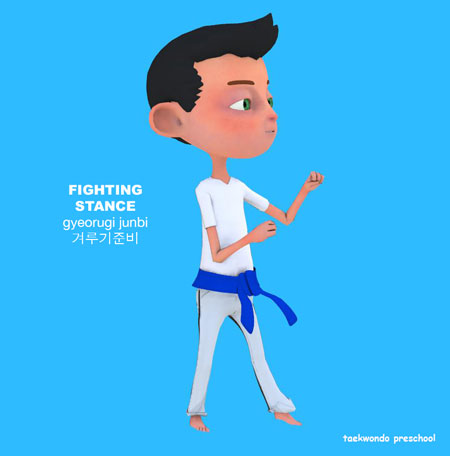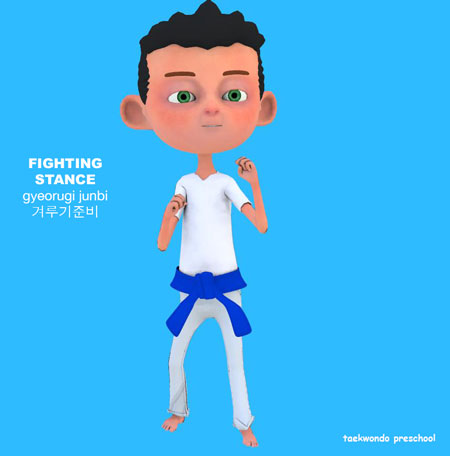 RESOURCES
This article uses material from the Wikipedia article "Taekwondo Stances", which is released under the Creative Commons Attribution-Share-Alike License 3.0.