Blue Strip Belt
Taekwondo 태권도
Taekwondo Preschool
Promotion from one geup to the next can proceed rapidly in some schools, since schools often allow geup promotions every two, three, or four months. Students of geup rank learn the most basic techniques first, and then move on to more advanced techniques as they approach first dan. Many of the older and more traditional schools often take longer to allow students to test for higher ranks than newer, more contemporary schools, as they may not have the required testing intervals. View Taekwondo belt levels »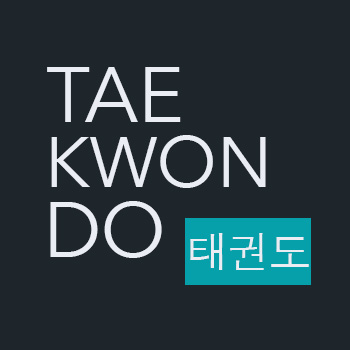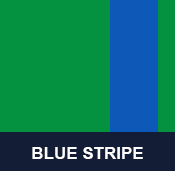 Promotion Tests | Blue Strip Belt
Blue Strip Belt Level Information
Ranking: 5th geup
Difficulty Level: Intermediate
To advance from one rank to the next, students typically complete promotion tests in which they demonstrate their proficiency in the various aspects of the art before their teacher or a panel of judges. Promotion tests vary from school to school, but may include such elements as the execution of patterns, which combine various techniques in specific sequences; the breaking of boards to demonstrate the ability to use techniques with both power and control; sparring and self-defense to demonstrate the practical application and control of techniques; physical fitness usually with push-ups and sit-ups; and answering questions on terminology, concepts, and history to demonstrate knowledge and understanding of the art. For higher dan tests, students are sometimes required to take a written test or submit a research paper in addition to taking the practical test.
Promotion from one geup to the next can proceed rapidly in some schools, since schools often allow geup promotions every two, three, or four months. Students of geup rank learn the most basic techniques first, and then move on to more advanced techniques as they approach first dan. Many of the older and more traditional schools often take longer to allow students to test for higher ranks than newer, more contemporary schools, as they may not have the required testing intervals.
For more information View Belt Level Ranking »
Promotion Tests | Blue Strip Belt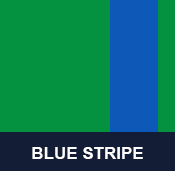 Blue Strip Belt Level Requirements
---
( Techniques vary between schools )
Blocks ( 막기 makgi )
Stance ( 서기 sogi )
Strikes ( 치기 chigi )
Fist Strikes ( 지르기 jireugi )
Kicking ( 차기 chagi )
Poomse 품새
Poomse is the foundation for the teaching of Taekwondo. A poomse, or form, is a detailed pattern of defense-and-attack motions and techniques used in traditional martial arts. Poomse is useful in developing proper kinetics, mental and physical fortitude.
Most Kukkiwon schools will use the poomse taegeuk whereas a few schools will use the poomse palgwe. The meanings, trigrams and symbols are shared by both poomse taegeuk and poomse palgwe, however the sequence of movements is different. The first 8 forms of the set of poomse differ from each other, whereas the last 9 forms (Black Belt forms) of the set are shared between the two sets. All students studying in World Taekwondo (WT) Kukkiwon style must learn these forms, or taegeuk, to advance to a higher belt level. There are eight taegeuk forms, each one similar to the previous one, but each time with more complicated techniques to display the students' mastery of the techniques learned during lessons, as well as the ability to interconnect these techniques. For more information View Taekwondo Poomse 품새 »
Promotion Tests | Blue Strip Belt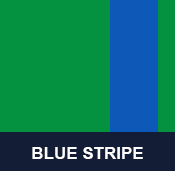 Knowledge Test
---
Question. In what year was Kukkiwon (국기원) being officially named on?
Kukkiwon (국기원), also known as World Taekwondo Headquarters, and home of the World Taekwondo Academy, is the official taekwondo governing organization established by the South Korean government. It is supervised by the International Sports Division of the Ministry of Culture, Sports, and Tourism. Kukkiwon is based at 635 Yeoksam-dong (역삼동) in the Gangnam-gu (강남구) district of Seoul, South Korea.
Question. What is the name of Taegeuk #5 in Korean?
Taegeuk 태극 (in World Taekwondo (WT)) refers to a set of poomse 품새 used to create a foundation for the teaching of taekwondo. A poomse or form is a detailed pattern of defense-and-attack motions and techniques used in traditional martial arts. Each taegeuk form symbolizes a specific state thought to be indicative of the belt the student currently holds, and is represented in World Taekwondo (WT) by trigrams similar to those found in the four corners of the South Korean flag.
Question. What is the korean terminology for kicking?
A kick is a physical strike using the foot, leg, or knee. As the human leg is longer and stronger than the arm, kicks are generally used to keep an opponent at a distance, surprise him or her with their range, and inflict substantial damage. All kicks can be executed as jump kicks, spin kicks, jump spin kicks or multi-rotational spin kicks. Also, all can be performed by the front or rear leg in a given stance.
Testing or evaluation is important to martial art practitioners of many disciplines who wish to determine their progression or own level of skill in specific contexts. Students within individual martial art systems often undergo periodic testing and grading by their own teacher in order to advance to a higher level of recognized achievement, such as a different belt color. View Taekwondo Promotion Tests »
Courtesy ( Ye Ui / 예의 ): "Showing courtesy to all, respecting others, having manners as well as maintaining the appropriate etiquette at all times, both within and outside the dojang (도장) (designated training area)." View Taekwondo Tenets »
RESOURCES
This article uses material from the Wikipedia articles "Taekwondo", "Taegeuk" and "Hyeong" which is released under the Creative Commons Attribution-Share-Alike License 3.0.