Other Forms
Taekwondo 태권도
Taekwondo Preschool
When you reach senior belt you are expected to guide the junior belts when they are beginning Taekwondo such as showing by example. To advance from one rank to the next, students typically complete promotion tests in which they demonstrate their proficiency in the various aspects of the art before a panel of judges or their teacher. View Taekwondo belt levels »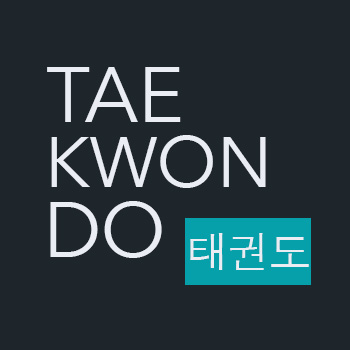 Other Forms of Self Defense
---
Taekwondo self-defense competition provides an opportunity for students to display their understanding of Taekwondo self-defense applications and the ability to put together their own team choreography.
Self-defense techniques may also include the following:
Avoidance
Being aware of and avoiding potentially dangerous situations is one useful technique of self-defense. Attackers are typically larger, stronger, and are often armed or have an accomplice. These factors make fighting to defeat the attacker unlikely to succeed. When avoidance is impossible, one often has a better chance at fighting to escape, such methods have been referred to as 'break away' techniques.
De-escalation
Verbal Self Defense, also known as Verbal Judo or Verbal Aikido, is defined as using one's words to prevent, de-escalate, or end an attempted assault. It is a way of using words as weapons or as a shield. This kind of 'conflict management' is the use of voice, tone, and body language to calm a potentially violent situation before violence actually ensues. This often involves techniques such as taking a time-out, and deflecting the conversation to individuals in the group who are less passionately involved, or simply entering into protected empathic position to understand the attacker better.
Personal Alarms
Personal alarms are a way to practice passive self-defense. A personal alarm is a small, hand-held device that emits strong, loud, high-pitched sounds to deter attackers because the noise will sometimes draw the attention of passersby. Child alarms can function as locators or device alarms such as for triggering an alert when a swimming pool is in use to help prevent dangerous situations in addition to being a deterrent against would-be aggressors.
Question. What is the korean terminology for Back Stance?
This stance is specifically focused on shifting weight to the back leg, as it offers much more control, and makes it easier to kick off the front leg. To perform this stance, the body faces to the side, with the front foot facing forward and the front leg bent. The back leg is bent slightly and the foot is turned outwards perpendicular to the front foot making the letter "L" for this stance.
Risk of injury can be reduced by completing an effective warm up consisting of a heart raiser to get your pulse up, followed by sport specific dynamic stretches (stretches whilst moving). Please follow the guidance of a certified Master Instructor or trainer when doing sports related activities. Depending on the intensity of the exercise, cooling down can involve a slow jog or walk, or with lower intensities, stretching can be used. Cooling down allows the heart rate to return to its resting rate. View more information on Warming Up and Cooling Down ».

This article uses material from the Wikipedia articles "Warming Up" and "Cooling Down", which is released under the Creative Commons Attribution-Share-Alike License 3.0.
RESOURCES
This article uses material from the Wikipedia article "Self Defense", which is released under the Creative Commons Attribution-Share-Alike License 3.0.