Taekwondo 태권도
Taekwondo Preschool
Promotion from one geup to the next can proceed rapidly in some schools, since schools often allow geup promotions every two, three, or four months. Students of geup rank learn the most basic techniques first, and then move on to more advanced techniques as they approach first dan. Many of the older and more traditional schools often take longer to allow students to test for higher ranks than newer, more contemporary schools, as they may not have the required testing intervals. View Taekwondo belt levels »
Physical fitness is generally achieved through correct nutrition, exercise, hygiene and rest.
Flexibility or limberness refers to the absolute range of movement in a joint or series of joints, and length in muscles that cross the joints. Flexibility varies between individuals, particularly in terms of differences in muscle length of multi-joint muscles. Flexibility in some joints can be increased to a certain degree by exercise, with stretching a common exercise component to maintain or improve flexibility.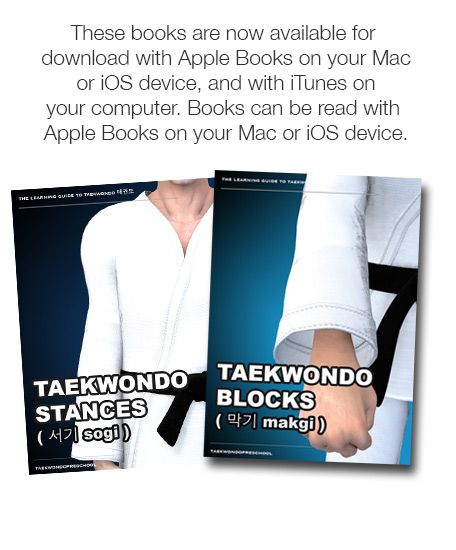 Quality of life is enhanced by improving and maintaining a good range of motion in the joints. Overall flexibility should be developed with specific joint range of motion needs in mind as the individual joints vary from one to another. Loss of flexibility can be a predisposing factor for physical issues such as pain syndromes or balance disorders.
Gender, age, and genetics are important for range of motion. Exercise including stretching often improves flexibility.
Many factors are taken into account when establishing personal flexibility: joint structure, ligaments, tendons, muscles, skin, tissue injury, fat (or adipose) tissue, body temperature, activity level, age and gender all influence an individual's range of motion about a joint.
Individual body flexibility level is measured and calculated by performing a sit and reach test, where the result is defined as personal flexibility score.
Flexibility is improved by stretching. Stretching should only be started when muscles are warm and the body temperature is raised. To be effective while stretching, force applied to the body must be held just beyond a feeling of pain and needs to be held for at least ten seconds. If held too long, the muscle will become too loose and stretchy. Increasing the range of motion creates good posture and develops proficient performance in everyday activities increasing the length of life and overall health of the individual.
Internal Factors of Flexibility
Movement demands include strength, endurance and range of motion. Training oversights occurs when the body is overused. Internally, the joints, muscles, tendons, and ligaments can affect one's flexibility. As previously mentioned, each part of the body has its own limitations and combined, the range of motion can be affected. The mental attitude of the performer during the state of motion can also affect their range.
External Factors of Flexibility
Externally, anything from the weather outside to the age of the performer can affect flexibility. General tissues and collagen change with age influencing the individual. Young performers should be aware of over-stretching. Even basic things such as clothing and equipment can affect a performance.
Signs of Injury
Stretching for too long or too much can give way to an injury. For most activities, the normal range of motion is more than adequate. Any sudden movements or going too fast can cause a muscle to tighten. This leads to extreme pain and the performer should let the muscle relax by resting.
Related Articles
RESOURCES
This article uses material from the Wikipedia article "Flexibility (anatomy)", which is released under the Creative Commons Attribution-Share-Alike License 3.0.